Super Smash Con | Graphic Design
A 3 year long experience of designing for a business and community, as well as producing commercial fan art aimed to sell. Created out of my pure joy and love for the professional Super Smash Bros. scene.
Role – Creator
Date – 05/2015 - 08/2018
Biggest Challenge – learning to balancing work and production with school
Biggest Takeaway – insight into a community's soul (through personal experience) and how to harness it in design
Marketing Graphics
My involvement with the professional Smash Bros scene started with working for Super Smash Con, an annual international gaming convention held in DC. Through tweeting fan-art of pro players, I was discovered by a well-followed ex-player in the community, who referred me to the company in 2016. Throughout the next couple years, I worked as an pay-per-project on-call marketing graphics artist, helping them develop a brand through their advertising materials.
In my designs, I paid attention to:
-Dark backgrounds to allow their colorful logo to pop
-Injected color accents all around
-Design hierarchy, as most graphics were blasted out over twitter, and needed to immediately showcase a message.
-A "fun" and family-friendly but clean and modern feel that made the image accessible to all ages involved in the Smash community
Products
Eventually, I transitioned to designing more physical items, namely competition badge passes.
-Continued company's "family fun" brand image
-Simple and easy to identify, but also well-designed enough to act as a keepsake after the con
Pitch Decks
Behind the scenes I frequently created pitch decks for the team, used to search for partners and investors
Here I faced the challenge of creating readable slides that delivered all the necessary information.
Personal Work
As a gesture of gratitude, Smash Con also flew me out to vendor at the con every year. Possibly one of the biggest learning experiences for me, exhibiting and selling my work to a community was incredibly rewarding. I learned to build my own brand, and eventually a website that filtered commission requests and orders from the Smash community. Notably, I've:
-Fulfilled hundreds of orders for art prints and hand-made Smash pins
-Partnered with a fan-art subscription company to sell my pins in bulk orders
-Incurred $2k+ in profit through selling Smash-related art and commissions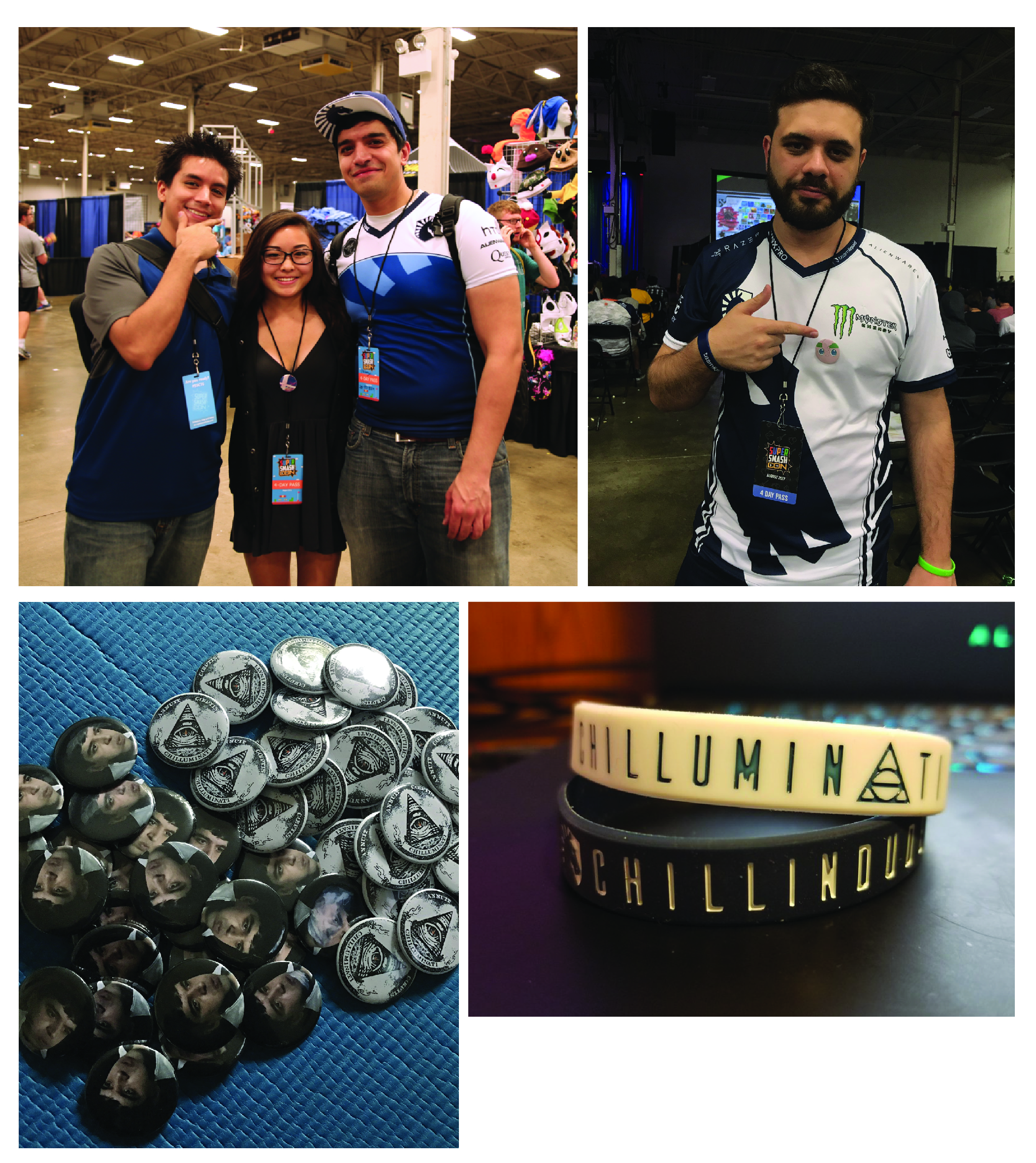 Friends <3
Most Importantly, the Smash community has been like a second family to me. Some of my favorite pro gamers I watched constantly on Twitch became my close friends, and I even got the chance to partner with them.
-Team Liquid Chillindude: created custom wristbands and pins for his subscribers
-Team Liquid HungryBox: created custom pin he sports during competitions
-Tempo AXE (not pictured): created custom Twitch emoticons for his channel